TESTIMONIAL
I was new to the practice of yoga when i signed up with Krishna. I wanted to learn more about mindfulness and after meeting Krishna in Cambodia I enjoyed his approach to yoga and mindfulness. I was apprehensive about doing postures and asana as I had only been to a few yoga classes in my life. He made me feel very comfortable and taught yoga in a different way from what I had experienced in the past. I loved this course as it was a holistic approach to yoga. I am excited to work with people in the future who may have looked at yoga the way i had, (thin people in fancy yoga clothes). I highly recommend this course for people wanting to broaden their knowledge of yoga.

FRANCESKA DUSTIN
New Zeland
TTC with Krishna in Siem Reap, Cambodia - January 2016
I had always wanted to deepen my knowledge and understanding of yoga, and I am very grateful to have met Krishna in October 2015. It was empowering to learn that yoga is not just about physical asana poses as taught in the West, but is also a systematic spiritual science that anyone can apply at their own pace through a variety of techniques including physical exercises, meditation, pranayama, and more.
After learning and applying some of the traditional Yoga techniques Krishna teaches I experienced rapid improvements in my physical and mental health. In fact, even after the first basic class on meditation and correct breathing, I felt a sense of peace that I had not felt for a very long time. As many Swamis have said, "don't take my word for it, try it and see for yourself".
Since beginning to practice traditional yoga as taught by Krishna, health issues that were plaguing me such as my asthma have disappeared or become much more easily managed, I have lost weight, am more fit, feel much less stressed, and I look and feel younger.
I was grateful to attend a TTC with Krishna in January 2016, which was full of so much information it felt like a University course of knowledge crammed into one month!
But Krishna has the ability to make the most advanced yogic techniques and philosophy seem easy for you to understand and eventually master. And he really does go in-depth to make sure you have as much knowledge as possible about all 8 limbs of yoga and how they should be practiced.
The provided course materials are awesome, and extremely comprehensive. The knowledge of yoga as a spiritual science is very advanced.
Krishna is very passionate about sharing traditional yoga as practiced in India with the world, and the course was a joy to participate in. There were many fun moments in class, especially when practicing teaching each other with other course participants.
I now feel confident to be able to teach traditional yoga to anyone, regardless of their age or health issues, for any purpose, to improve their lives.
For me personally, I know that I will now be a yogi for life. I have experienced for myself that by practicing yoga I will have a much more peaceful, happier, healthier, and longer life.
It is hard for me to put into words just how effective traditional yoga techniques are for improving anyone's well being, and how grateful I am for the knowledge and practice I have gained.
BLAKE POPE - AUSTRALIA
"HOLISTIC YOGA IN SIEM REAP, CAMBODIA"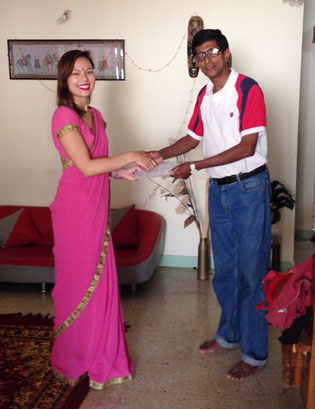 I had an opportunity to participate 3 sessions of "Traditional Holistic Yoga" conducted by Master Yoga Teacher Krishna Raja of "Himalayan International Yoga Center" at Blue Indigo Cottage Yoga Retreat center at Siem Reap, Cambodia. Although it was a very short period I was able to understand clearly the Concept and the Techniques of Traditional Holistic Yoga. I was also somewhat understood the application of the theory when practicing holistic Yoga. I experienced little changes happening at the Physical, Breathing, Mental and Emotional levels of my body when I was practicing holistic Yoga. I liked the Holistic Yoga sessions because I feel that I have learned how to manage and handle Stress and link my Emotions. It was interesting to learn not only at Physical level but also at mental level and also how to handle myself. This will be very useful for my daily life. I am also planning to join longer period Yoga Workshops and even may join Teacher Training course (TTC) to learn and practice more Holistic Yoga from Master Krishna Raja.
YUKI KURODA-TOKYO, JAPAN
21st Sept,2015
TTC At Bangalore, India, Jan/ Feb-2015- Student From USA
My name is Evelyn Wilroy. I was born and raised in Los Angeles, California. Before I went to Pokhara, Nepal and later Bangalore, India to complete my teacher's training course at Himalayan International Yoga Center with Krishna, I was working a stressful 9-5 job in the city of Los Angeles as a professional marketer.Working well past 8 hours a day, stressing about money, and not feeling truly happy with my life, I quit, and left everything behind to travel. I had never really had an interest in yoga in the States, but meeting Krishna in Nepal and getting the opportunity to learn what it is truly about couldn't have come at a better time in my life. Now, becoming a Yoga Alliance International certified instructor not only gives me a greater purpose, but has changed my life significantly. As someone who has been considered uptight and prone to stress for most of my life, I have finally learned to relax. I am happier, healthier, and am eager to spread what I have learned with others.
YOGA LEARNED AT HIMALAYAN INTERNATIONAL YOGA CENTER VS. TYPICAL CLASSES IN THE U.S.
The traditional holistic yoga teacher's training course has differed significantly from the yoga classes I have taken in the United States, namely Los Angeles, where I am from. There, due to the speed of the classes and lack of personal connection between the teachers and the students, I felt discouraged when attempting to keep up in class. Things were not properly explained, and there was no spiritual aspect whatsoever. We were never taught to breathe, and simply jumped into constant asanas. There is a huge sense of snobbery, and it is has come to be this extreme form of exercise with an objective to strive for the most dramatic of poses. That is where people feel a sense of accomplishment. It is built around strength and the physical body. Traditional Holistic Yoga is entirely different, and I where I felt discouraged and defeated in one class full of purely asanas in the Los Angeles, I felt absolutely calm, happy, and empowered as a result, after my first class which consisted solely of the basics of breathing and meditation.
YOGA IN THE UNITED STATES
Traditional, Holistic Yoga can definitely benefit people interested in the United States. In the United States, it is part of the culture to be on the go, and with everything at a rapid pace. There is never any time, and most citizens fill their hours of the day with strenuous work and not much else. People don't know how to relax. By introducing Traditional Holistic Yoga and 1.) Explaining what Yoga truly is as a mind-training program and lifestyle change, and 2.) Teaching people how to practice implementing proper breathing, the theory and fundamentals, how to meditate, etc., people will not only be able to better manage their day to day stress, but they will simply learn how to be happy. All of these things will have life-changing impacts, from the physical body and health in regards to non-communicable diseases, to the psychological health, and everything in between.
PERSONAL CHANGES
There have been several changes I have already experienced from my month of TTC. The main one I would say that I have accomplished is self-awareness. This was accomplished, first, by learning to breathe and meditate and clear the mind. I come from a very stressful background of working long hours in Los Angeles, and I was always tense. I always had a lot of thoughts in my mind that I couldn't quiet, and because of that, I couldn't think with clarity. I couldn't even realize how unhappy I was because there was no room for self-analysis in my busy mind. I projected negative energy I was feeling as a result of my lifestyle onto those around me. I wasn't a pleasant person, and my relationships suffered. I didn't take the time to take care of not only my physical body, but all the other layers of my being.
Since practicing yoga, I have been able to better prioritize my life. I have learned to calm down and relax. I have learned to be more present. I have discovered the power I have to heal myself and accomplish things myself with the tools I have been given. I am happy. I am so happy and confident that others can discover the same powerful aspects of yoga, which is why I was so eager to learn to be a teacher myself, and I am even more eager to put what I've learned to practice at home.
Evelyn Wilroy
From USA
Teacher Training Program in April - May, 2014
I joined the Himalayan International Yoga Center, Pokhara Nepal and completed my TTC during the months of April and May 2014.This school provides a very high quality yoga training program. I have learned much during this one month training program. The teachers gave very clear explanation and practice about what traditional Holistic yoga is ,and how it is different from the Modern Yoga - which is mostly practiced only at Physical level. The program covers all important aspects of traditional Holistic yoga that practitioners should know. Through the whole month program, I got to learn yoga from a beginner's perspective until the very end that now I feel confident to teach people. The teachers are excellent and have great understanding on yoga. I have learned so much theory/knowledge and learned how to apply it while practicing . I strongly recommend that people should take this course no matter for their own good or benefit for the others. Thank you again to the teachers of "Himalayan International Yoga Center". I will continue to practice on what I have learned from the course and will share the wisdom of yoga to the others.
SUWEN YANG from USA
Teacher Training Program With Master Krishna Raja
Thank you for giving me a good foundation for practicing and teaching yoga. I have learned a lot of interesting and useful information and practice of yoga.The program was very well structured and was gradually building step by step till the end of the program where it all comes together.I have truly enjoyed the days with Krishna and been given a spark and inspiration to practice and study yoga in a Holistic manner on my road to enlightenment.I am happy to know the tools to calm my mind in this "busy world".
I can highly recommend the teacher training program for both students and teachers.
My perception of yoga has changed, and I will practice as long as possible to keep and improve my overall heath and happiness. Thank You So Much
Mona,Mona Framnes Vikes Manager Norway
3 Days Holistic Yoga Sessions With Master Krishna Raja
My Western view of Yoga has been fully changed and my eyes have been opened to the historical authentic principles behind Yoga. I have gained deeper understanding and appreciation for how Yoga should be practiced.
Understanding correct breathing and linked with correct postures, controlling the Mind correctly and Focusing - I had no concept of true Meditation and the benefits of individual Postures. Now I can feel the difference between practicing Yoga for physical benefits and for the overall Total body, health, Relaxation and mind focusing. It has been a wonderful and truly unique experience with a wonderful teacher with immense knowledge and motivation.
I will always remember my time here in Nepal and will keep the techniques I have learnt and continue to practice and develop them. Thank You for everything
Love Jo,Joanne Donnelly,Occupational Therapist, U.K
Email: jo.donnelly31@gmail.com