Profiles of our Teachers
PROFILE OF MASTER KRISHNA RAJA
("YOGA ALLIANCE INTERNATIONAL" CERTIFIED YOGA TEACHER)
(500Hour E-CYT)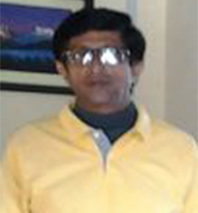 Kirshna Raja-Certified Yoga teacher and Yoga Therapist, hailing from a family of traditional Yoga practitioners in South India.He learned Yoga techniques at the age of 8 from his uncle who was a yoga teacher and regular Yoga practitioner at Ramakrishna Mission and Vivekananda Ashram where they teach authentic traditional Yoga techniques.
He spent nearly 25 years as a Marketing professional, working in India and abroad going through the stress and strain common to all marketing professionals.
Later in his life he realized the importance of traditional Yoga which provides the suitable solution for all the modern life style related health and social problems. He joined SVYASA Yoga University,(SVYASA-Swami Vivekananda Yoga Anusandhana Samsthana) in Bangalore and became a Certified Yoga Teacher and Therapist. He also underwent various Yoga Therapy Training programs at the University which has a 250 bedded Yoga hospital within the campus.He was also a member of the Yoga Therapist Team of the SVYASA for one year for the "STOP DIABETES THROUGH YOGA" project of the University to teach Yoga Therapy techniques to prevent and manage Diabetes through Yoga.
Later he joined "The International Sivananda Yoga Vedanta Center" - Headquarters in Canada - founded by Swami Sivananda and Swami Vishnu Devananda from South India.Now it is an International organization with Yoga Ashrams and Yoga centers in more than 30 countries offering Authentic Hatha Yoga teachings.
Krishna Raja underwent and completed successfully the "Teachers Training Program" and "Advanced Teachers Training Programs" in Sivanda Ashrams. These Courses Certifications are recognized by the YOGA ALLIANCE 200 Hour and 500 Hour level in USA and CANADA.

Krishna Raja is the founder of "YOGAWAY" - Yoga training center in Bangalore, India, along with his wife , who is also a certified Yoga teacher.

He has been teaching Holistic, Integrated Authentic Yoga to Individuals, Foreign Tourists, Corporates and Institutions.He also visits abroad and teach Yoga in many countries.

He has participated in International Yoga Conferences in India and Abroad. He was awarded "YOGA SIROMANI" - "TEACHER OF YOGA" and "YOGA ACHARYA"-"MASTER OF YOGA" titles from The International Sivananda Yoga Vedanta Center.
Krishna Raja has been teaching Yoga for many years and his teachings are based on Holistic Integrated approach coupled with modern medical and scientific explanations adhered by Dr.Nagendra-Former Scientist of NASA(U.S.A) and Dr.Nagarathna, M.D.,FRCP(Edinburgh) founders of SVYASA Yoga University, Swami Sivananda(He was a Medical Doctor and later a world renowned Sage) and Swami vishnu Devananda- close disciple of Swami Sivananda.

To Compliment his teaching in yoga, he has studied "Foot Reflexology" and successfully completed the training program with the world famous WATPO THAI Therapy school in Bangkok, Thailand and Ayurveda Body Massage from Kerala, India.

Now his main aim is to introduce the "YOGAWAY OF LIFE" to many people as possible all over the world by teaching Intergrated Holistic Yoga.
PROFILE OF Ms. BHAWANI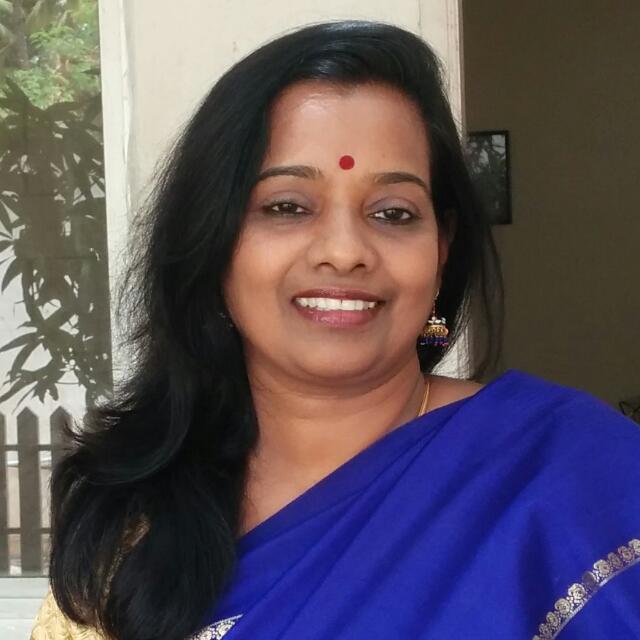 Ms. Bhawani has traveled widely in Europe and Asia teaching Yoga, Yogic food cooking, and Ayurveda massage therapy. An expert in cooking Indian traditional food and yogic or Satvik food, She has also specialized and expert in teaching menopause, pregnancy, and children yoga. She is a certified yoga teacher from International Sivananda Yoga Vedanta Center.
PROFILE OF Dr S Gokhale
( MBBS, MD Prof and Head, Microbiology Director)
Dr. Shishir Gokhale is a graduate of MGM Medical College Indore and did MD Medical Microbiology at the Armed Forces Medical College, Pune. He has served in the Indian Army Medical Corps as pathologist and microbiologist at various military hospitals for 27 years. He has established the laboratory facilities for all the hospitals of Andaman and Nicobar Islands. He has been a teacher at the Armed Forces Medical College, Pune, and a graduate and post graduate examiner at many universities. He has been Director of Blue Peter Research Center, Hyderabad, and Dean KMC International Center Manipal. He is presently Prof and Head, Dept of Microbiology and Director, Basic Sciences at the Manipal College of Medical Sciences, Pokhara, Nepal.
He has many publications in peer reviewed scientific and general periodicals and news papers. He has conducted research projects and presented numerous papers in various conferences. He has been invited as guest speaker in many fora. His other interests are holistic medicine, yoga, wine brewing, training pets, music, dramatics and literature.
PROFILE OF Dr. Sheetal Chopade
Bachelor of Ayurvedic Medicine & Surgery (B.A.M.S.)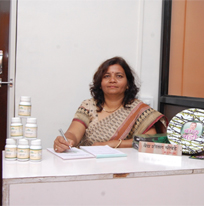 Well known for her medical practice and as an accomplished Ayurved teacher, Dr. SheetalChopade brings with her, years of experience in this noble field. She is a strong believer ofayurved which is an ancient and proven indian medican science.Dr Sheetal is a practicing licensed doctor for past 20yrs with many of her patients within India and abroad. She has 15+ years of teaching experience and she is also a renowned visiting professor in Germany, France and Switzerland. Below is a concise synopsis of her career and tenures in terms of medical experience.Runs Own Panchkarma centre in Pune since last 5 years. Worked as a Production Manager In an Indian Ayurvedic manufacturing company for 3 years Was a Director In Oriental Ayurveda health Products Pvt. Ltd. : Has published articles on various topics of ayurveda in local magazine and daily news paper.
PROFILE OF Ms. LAKSHMINARAYANI YUKI
(Yoga Teacher & Spirituial Master Healer)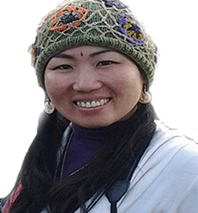 Ms. Laksmi Yuki Suzuki, highly quailified, experienced and widely traveled Yoga teacher and Spiritual Master Healer hailing from Japan.She started her own business as Free lancer in 1997 after graduating in various training courses related to Fitness, Dancing and Health care in Japan. Aerobics dance exercise, General fitness, AFFA(Aerobics and Fitness Association of America), Step exercise , Kick boxing exercise, Latin dance exercise, Body stretching relaxation with aroma etc...She taught various classes for all age groups
YOGA:
In 2001 after graduating as a personal trainer started private sessions for clients in Japan. During the same year she was attracted to Yoga and Pilates. She completed training courses in Yoga and Pilates and was conducting group classes and personal classes in Yoga in Japan. In 2003 she went to Australia and worked as personal trainer in Yoga and Pilates.After spending one year in Australia she returned to Japan and continued to work as Yoga and Pilates trainer. Lakshmi Yuki also. successfully completed further Diploma courses - "Yoga Alliance of America Intensive Yoga",
"Maternity yoga-India Government Authorized Yoga Therapist", Basic Hatha Yoga , Kids Yoga, Stott Pilates Internatioanal certificate,Peak Pilates International Certificate and so on. In 2008, she joined a large French Resort "Club Med" as the "Head of Yoga and Fitness Department".
She worked for one year and during this period, she developed and gained experience especially in teaching Yoga, Developed and coordinated Yoga classes for all ages and Nationality. Created gentle Yoga for elderly and patients. Planned and coordinated creative Yoga classes for Japanese customers- Together with Spa developed and coordinated special classes for promotion. Coordinated creative private Yoga sessions for customers. In 2009, she traveled to India and lived in many Ashrams to deepen her knowledge of Yoga Philosophy and Yoga techniques.During this period she also underwent training programs in Reiki(for Healing Mind and Body) and successfully completed the training course and became the "Master in Reiki"
Laxmi Yuki also completed Teachers Training Course(TTC)and Advanced Teachers Training Course(ATTC) from the "International Sivananda Yoga Vedanta Center" and received the titles of "TEACHER OF YOGA" and "MASTER OF YOGA". She also completed higher Reiki course and got the title of "Grand Master". From 2009 To 2012 she conducted many Yoga training programs in Tokyo and other states of Japan, Bali and India.In 2012 she started her own Yoga Studio in her home town in Japan and was conducting many Yoga workshops including Teacher Training Courses(TTC).
Her main aim is to produce many quaility Yoga teachers and through them as peace messengers spread Love, Energy, Health and Happiness throughout the world.
PROFILE OF Ms. KAY KAVITHA
(Master Yoga Teacher)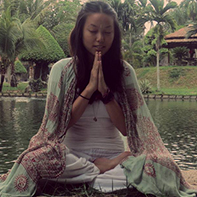 Kay Kavitha has been a traveling yogi and a hatha yoga teacher for the past 2 years, sharing her teachings and experiences with aspirants all around the world.
Born and raised in the heart of New York City, USA she started her practice 7 years ago. There was something about yoga that kept bringing her back on her mat. It was a place where she always found peace and tranquility regardless of what was happening in her life. For a few years, she continued practicing with master teachers while working in the corporate world.
After studying in yoga schools in the West, Kay left her career to begin her journey in the East to deepen her understanding in yoga and meditation. At the same time, she had a mission to serve, love, and give back to the people and communities in Asia. She spent all her time volunteering in ashrams, temples, monasteries, orphanages, and animal camps in Thailand, India, Vietnam, China and other countries. Wherever she traveled to, she taught yoga to those whom she met along the way.
A big part of Kay's teachings comes from the year she spent volunteering full time in yoga ashrams under a Gurukula system. For a whole year, she followed a strict and disciplined yogic lifestyle in the ashrams where she selflessly taught yoga and assisted for teacher trainings. Not only did that deepen her knowledge in traditional hatha yoga, but it also helped her develop unconditional love, patience, and compassion for her students.
Kay has completed trainings from various schools including Sivananda International Vedanta Center ( TTC & Adv. TTC ) , Dharma, Kripalu, Andiappan, Anti-Gravity and Universal Yoga.
These courses strengthened her knowledge in teaching a wide array of yoga styles to practitioners of all levels. To complement her teachings in Yoga, Kay studied Thai Yoga Massage and has completed over 300+ hours of training with Lotus Palm in Canada and Thai Massage School of Chiang Mai in Thailand. Aside from Yoga, she has also taken intensive courses in Pranayama, Meditation, Reiki, and Ayurveda. Kay brings a holistic approach in her teachings by using healing, therapeutic, and breathing techniques to suit the needs of her students.
"Health is wealth. Peace of mind is happiness. Yoga shows the way." This beautiful quote by Swami Vishnudevananda deeply resonates with Kay. Through her worldly experiences, she sees how Yoga can benefit everyone by improving the physical, mental, and spiritual well being of each individual.
With much love and joy, she safely instructs her students to flow mindfully through her inspirational classes, bringing their body mind and soul in balance. Kay is forever grateful for all the teachers who have planted seeds of wisdom in her and for all the angels who have guided her to where she is today. She truly believes that her life's work and greatest passion is to share the gift of Yoga to all.